Hohner Rocket Harmonica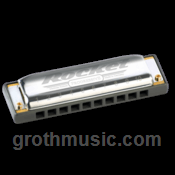 Progressive Series
With their excellent response and great tone, diatonic harmonicas from HOHNER have earned a worldwide reputation for the finest quality. They are frequently referred to as "Blues Harps" and are primarily used as melody instruments in blues, rock, pop, country and folk as well as other styles.
Alongside the standard Richter harmonicas, HOHNER offers a range of special models with additional features which render them particularly suitable for certain styles or playing techniques.
Comfortable, Responsive and LOUD!
The Rocket represents a new breakthrough in diatonic harmonica design. The ergonomically designed comb has rounded sides and edges for maximum comfort. Wide open cover plates and channel design enhance pressure to ensure maximum loudness. The Rocket allows players to express a powerful, dynamic sound.
Features
• Wide open cover plates and channel design enhance pressure to ensure maximum loudness
• Ergonomically designed comb has rounded sides and edges for complete comfort
• Covers and reed plates fitted with Philips head screws permit easy access to facilitate maintenance
• Sturdy neoprene case allows moisture to evaporate while keeping dust out
• Available in 12 keys (C, Db, D, Eb, E, F, F#, G, Ab, A, Bb, B)
• Made in Germany
| | |
| --- | --- |
| Model: | M2013BX |
| Manufacturer: | Hohner |