Eble Music Co.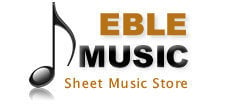 Eble Music Company has been serving musicians in the U.S. and around the world since 1950, specializing in sheet music for all instruments, including voice. It was established by Charlie Eble in Iowa City, IA, and continued there until 2014, when it was sold to Groth Music and relocated to Bloomington, MN. It has operated as a part of Groth since that time.
As of November 24th, 2018, all eble.com web traffic is being redirected to the Groth Music website. Here you will find improved product listings, real time shipping calculations, additional payment options, responsive page designs suitable for any device, and lower prices on many publications.
Ways to Order from Eble / Groth Music:
Place your order at GrothMusic.com.
Email your special request to music@grothmusic.com.
Fax your purchase order to 952-884-1134.
Call 952-884-4772, ext. 501 for print. Our knowledgeable sales staff is available Monday through Saturday to assist.
Come and visit us. You won't be disappointed!
Groth Music and Eble Music would like to thank you, our customers, for your loyalty to our companies over the years and for giving us the opportunity to continue serving you!
---